---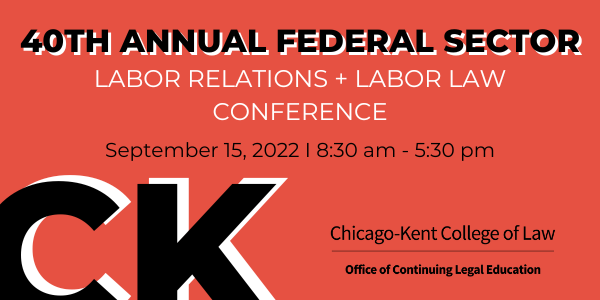 Annual Federal Sector Conference is
BACK in-person and better than ever!
September 15, 2022
Chicago-Kent College of Law, 565 W. Adams Street, Chicago

Join top government officials & policymakers, world-class management-side attorneys
& union representatives, and leading academics for this one-day in-person conference,
to learn about the future of the federal workplace and workforce as we
get our footing under the Biden Administration during an endemic.

Click here for more information and to register.
---

FMA Regions 1 & 2 Conference
October 7-9, 2022
Norfolk, Virginia

Join FMA colleagues from throughout Regions 1 and 2
for a great networking opportunity!

More information coming soon!

---

FMA Regions 3 & 4 Conference
Tangible Effectiveness
November 11-13, 2022
Beacon Center, Las Vegas

Join FMA colleagues from throughout Regions 3 and 4 for an outstanding
training and networking opportunity!

Click here for more information.

---

FMA's 85th National Convention &
Management Training Seminar
March 26-29, 2023
Hilton Alexandria Old Town, Virginia
Alexandria, Virginia

More information coming soon!
---



COVID-19, EEO Laws, and Issues Concerning
Returning to the Workplace Webinar

FMA, working with the EEOC, is proud to offer information to our members.




This event has already taken place and a recording is available to FMA members only.




None of us are quite certain of what will become the new "normal" in our

places of work, but we know it will be a learning experience for all of us.

Managers especially must be prepared for the challenges to come.




This insightful hour focused on how to comply

with EEO laws while dealing with a wide range of situations related to

COVID-19. Sharon Rennert, Senior Attorney Advisor for the U.S.

Equal Employment Opportunity Commission, guided webinar

participants through key matters such as Reasonable Accommodations

for Employees with Disabilities, Responding to Requests for Assistance

related to issues such as child/family care, and Confidentiality Issues.
Stay the Course: COVID-19 and Retirement Planning
Free webinar - exclusively for FMA members!
T

he administrator of the Federal Long Term Care Insurance

Program (FLTCIP) and Tammy Flanagan of Retire Federal hosted this free

educational webinar exclusively for

Federal Managers Association members.

We are living in uncertain times due to the worldwide pandemic of COVID-19.

What impact does this have on your retirement planning?




Tammy Flanagan

discusses ways to make informed decisions about your

retirement benefits whether you are near your planned retirement, mid-career,

or already in the first years of your well-deserved life after retirement. You

will learn some key factors that will help you stay the course and plan for

a smooth transition to a financially secure life after federal service.



Long Term Care, Dental and Vision Insurance Webinars
Learn more about the Federal Long Term Care Insurance Program (FLTCIP) and Federal
Employees Dental and Vision Insurance Program (FEDVIP), plus explore related long term care
issues such as making the most of your benefits, financing long term care, and the
advantages of planning for retirement. Sign up for a free webinar
today or visit www.ltcfeds.com. All events are available on-demand.
---
Thrift Savings Plan (TSP) Webinars
As a federal employee or a beneficiary participant, you have the opportunity to
participate in one of the finest retirement plans in the world.
Learn how to best utilize this exceptional benefit:
---
Did you know that FMA is on Facebook? Check us out at:
FMA - Advocating Excellence in Public Service