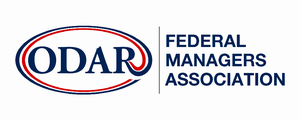 The Federal Managers Association, established in 1913, is the oldest, largest, most influential association representing the interests of the 200,000 managers, supervisors and executives serving in today?s federal government.
ODARMA began life as OHAMA (OHA Managers Association) in the mid-1990?s. We started as an informal group of managers brought together by a desire for better communication and to share ideas, problems and solutions. We are formally acknowledged by SSA as the professional association of ODAR managers. We promote the interest of managers, supervisors, and MSAs from various ODAR components both in Headquarters and the field. ODARMA is informed and consulted by the administration on matters impacting managers, supervisors, and MSAs. We participate in executive level meetings on Agency policy. We can voice your concerns and advance your interests.
Our Mission & Goals
We seek to:
improve managerial effectiveness in pursuing our public service mission;
increase the efficiency and promote the professionalism of the Office of Disability Adjudication and Review (ODAR) managerial force;
promote the establishment of policies in accomplishing the mission of the Agency and that best serve the public interest, and;
establish and enhance relationships with other components of SSA to exchange information.